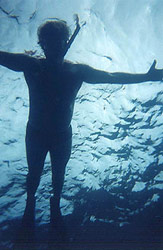 Aloha and Welcome,
I am here to assist you in your transition to the next evolutionary frequency of consciousness ~ if you would like me to. The wisdom imparted to me by the cetaceans has provided many ways for me to support others in the most important shift of awareness and consciousness yet known to humanity.
I'm inviting you to join me in this great adventure into a new way of thinking and being that represents the now/future of our species on this fragile ocean planet.
If you are personally ready for this to happen in your life and feel a resonance with the information provided in my personal websites listed below, I will be pleased to assist you in the most suitable way for your needs. Just like with the dolphins, you first have to ask, and I will respond.